e-Lifesaver 2021
Would you know what to do? e-Lifesaver puts users at the heart of the action in an emergency and teaches them the right choices to make in order to save a life. These scenarios cover calling for help, performing CPR, using a defibrillator, putting someone into the recovery position, and what to do if someone is choking.
Four scenarios: £10 (incl. VAT)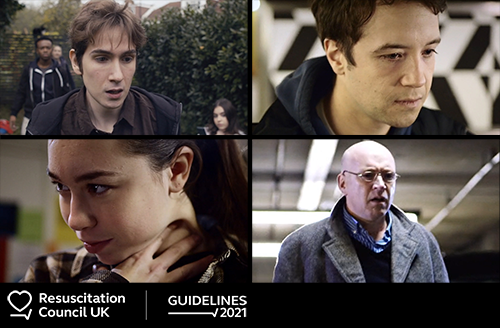 e-Lifesaver is a SCORM-compliant digital education tool that is easy to follow, and simple to use. Developed by clinical experts at Resuscitation Council UK, e-Lifesaver highlights RCUK's guidance, ensuring you know best practice in CPR, AED use and choking management.
To purchase your individual license, please visit our payment page.
If you already have an account from your organisation, please login to start learning.
If you would like to enquire about using e-Lifesaver for your workplace, email us today at lifesaver@resus.org.uk for more information.
e-Lifesaver meets the national standard for CPR and AED awareness training and those who complete their training on e-Lifesaver will receive a printable certificate. Launched in Spring 2020, e-Lifesaver has already been used by numerous organisations, including NHS Trusts, charities, commercial organisations and more.
About the films
Scenario 1 – Harry: 15-year-old Harry is playing football with his friends when he has a sudden cardiac arrest. He won't survive without your help. Learn how to perform CPR and use a defibrillator to give Harry his best chance of survival. The Harry scenario meets the National Standard of CPR and AED awareness.
Scenario 2 – Jake: Jake is out in public when he suddenly collapses and stops breathing. Will you stop to help him? Learn about how to respond in an emergency, perform CPR and use an AED in this scenario. The Jake scenario meets the National Standard of CPR and AED awareness.
Scenario 3 – Rebecca: When you see Rebecca choking on her food, it's up to you to give her a chance of survival. In this scenario, you'll learn how to act if someone's choking, and when to perform CPR. The Rebecca scenario teaches the Resuscitation Council UK guidelines on choking.
Scenario 4 – Peter: Peter collapses while on his own in a parking garage. Would you know what to do to help him? Learn how to recognise the signs of cardiac arrest, put someone in the recovery position, and how to do hands-only CPR.
Additional content
At the end of the films, learners can access our COVID-19 guidance to ensure they have up-to-date information about performing CPR during the pandemic.
What will you get out of it?
Sudden cardiac arrest can happen to anyone, at any time. Knowing what to do in an emergency can make all the difference when it comes to survival – and e-Lifesaver is a great way to learn. It's engaging, interactive, and completion of it meets the National standard for CPR and AED awareness training. On successful completion of the course, a personal printable certificate is awarded.